Gulf States Aquaculture has established a well-organized and efficient distribution system to deliver their high-quality fish to customers. Once the fish have been harvested, processed, and packaged, Gulf States Aquaculture employs reliable logistics partners to ensure timely and safe delivery. The fish are carefully packed in temperature-controlled containers to maintain their freshness and integrity during transportation. These containers are then transported via refrigerated trucks or air cargo, depending on the destination and customer requirements. Gulf States Aquaculture works closely with its distribution partners to optimize delivery routes and schedules, minimizing transit times and maximizing the quality of the fish upon arrival. The company takes pride in providing excellent customer service, ensuring that orders are accurately fulfilled and delivered to various markets, including restaurants, seafood wholesalers, and retail outlets. By prioritizing efficient and reliable distribution, Gulf States Aquaculture ensures that their premium fish reaches customers promptly, maintaining its exceptional taste and texture from farm to plate.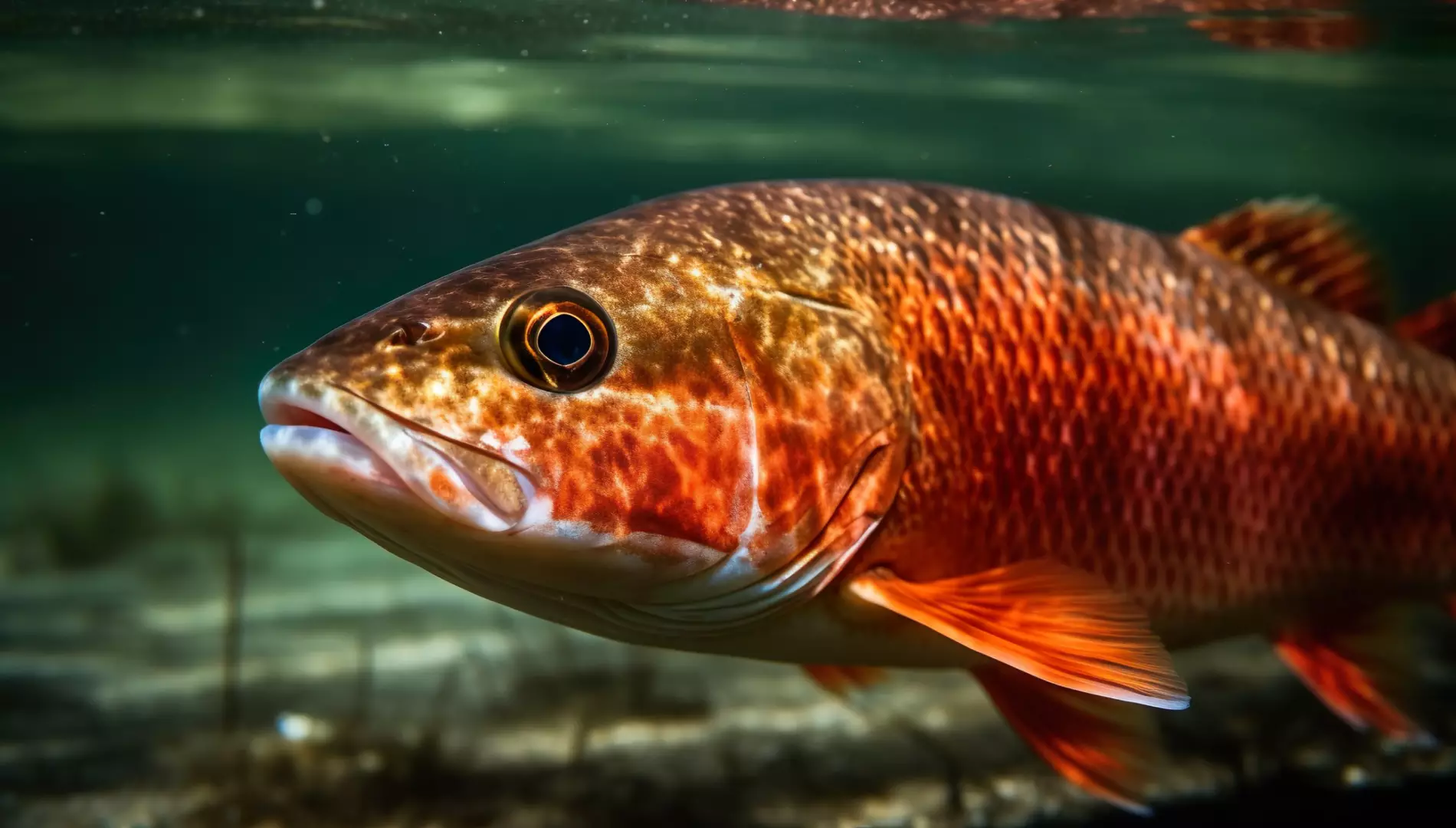 Product Description & History
Royal Redfish ®, Red Drum is a finfish farm raised in protected pond systems in Palacios Texas. Red Drum is commonly known to sports fishermen and executive chefs as Redfish.
Redfish is a finfish native to the Atlantic Ocean and Gulf of Mexico and is found in Coastal waters from the Northeast to Mexico. Red Drum was made famous when a well-known Louisiana Chef named Paul Prudhomme introduced his blackened redfish dish in Louisiana. In the wild, Red Drum has a diet that consists of smaller fish, shrimp, and even oysters. Red Drum has more of a copper-silver sheen than a reddish tint but when the fish are glistening in the sun the reddish color shines. Redfish are known for having distinct black spots on their tails and are very fun fish to catch in the wild or in enclosed pond systems.
Product Flavor
Royal Redfish ®, Red Drum is a flaky white meat fish that has a fresh mild taste. The consistency of the product makes it the ideal fish to adapt to multiple cooking methods.
Growing Process
Royal Redfish ®, Red Drum is raised on our 400-acre land-based farm in south Texas. Our Brooders produce fry, and baby fish, in our enclosed hatchery and we stock them in enclosed saltwater pond systems. All of our water is sourced from the Matagorda Bay system directly. Our Red Drum is fed a high-quality diet of grains, vitamins, minerals, and fish meal proteins from the largest feed producers in the Southern United States. Matagorda Bay Red Drum is free of hormones, antibiotics, and pollutants which makes our product a terrific healthy option to eat.
Cooking Methods
Blackened, Saute', Suvee, Grilled, Steamed, Baked and Seared
Product Usage
Whole on the round, Portioned and Fillet
Safe Handling
Whole fresh fish should be in a continual pack of flake ice that has continual drainage and under constant refrigeration below 40 degrees for the longest shelf life to retain the highest quality. Fillets should be covered or bagged and then iced outside of the bag so the ice does not come in direct contact with the meat. This will ensure the highest quality and maintain the best color for longer shelf life.